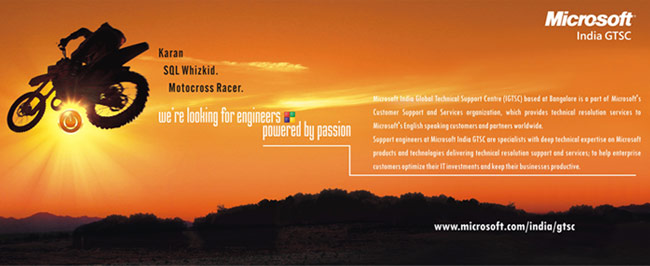 Microsoft India Global technical Support Centre (GTSC) based at Bangalore is a part of Microsoft's Customer Support and Services organization, which provides technical resolution services to Microsoft's English speaking customers and partners worldwide.
Support engineers at Microsoft India GTSC are specialists with deep technical expertise on Microsoft products and technologies delivering technical resolution support and services; to help enterprise customers optimize their IT investments and keep their businesses productive.
If you are passionate about technology with 1-6 years of relevant experience in any one or more of the below technology areas, you can email your resume to
igtscblr@microsoft.com
calling out the relevant job code
Specialists in Visual C++ (Job code - VC01)
• Experience in developing Windows applications/ components console or web based application using VC++ with MFC, COM, ATL or C#, VB.NET or WIN SDK/ WIN32
• Experience with software development and/or testing in C & C++
• Solid understanding of the OS fundamentals, developer tools(like linkers, debuggers), threads & processes, DLLs & Libraries
• Certification in MCAD, MCSD, MCPD certifications with good understanding of XML & Open XML technologies

Specialists in .NET (Job code - NE02)
• Experience in developing console or web based application such as .Net framework, C#.Net, VB.Net, VB 6.0, XML, COM, scripting (VBScript) or ASP.NET, C#.NET, XML Web Services and scripting (JavaScript)
• Strong understanding in OOPs concepts with good knowledge on core OS concepts (processes, threads, scheduling, memory management, etc., file systems and genera security) is a must
• Good knowledge and understanding of Windows Communication Foundation (WCF)
• Thorough understanding of Web servers like IIS or SharePoint in areas like configuration, deployment is a definite plus

Specialists in Databases (Job code - DB03)
• Hands on experience in Microsoft SQL Server versions 2000, 2005, 2008 or 2008 R2
• Experienced SQL DBA's having strong RDBMS knowledge
• Knowledge in Operating System concepts and clustering
• Microsoft Certifications like MCTS, MCITP are advantageous

Specialists in Windows (Job code - WIN04)
• Experience in Installation, configuration & troubleshooting in Windows 2000, Windows XP, Windows 2003 and Windows Vista in standalone and server environment
° Hands on experience in any of the following technologies - Backup, Recovery, Storage, Windows Clustering, Deployment, VMWARE, Memory Management, Windows Registry, Blue Screen, Terminal Services and Printing.

Specialists in Active Directory (Job code - AD05)
• Fundamentals of DNS, DHCP, FSMO, ADS and Group Policies are needed.

A career with the India GTSC is an opportunity to learn and build deep product experience, and leverage your competencies and skills to build successful careers with Microsoft. Engineers at the Microsoft IGTSC support global enterprise customers, providing advanced technical troubleshooting support and resolution round the clock. Candidates applying for above roles should possess good communication, Customer-handling skills and willing to work in night shifts

Content provided by Microsoft, Info Edge India Limited disclaims all warranties against infringement.